1st International Conference Social Sciences and Law (ICCSL)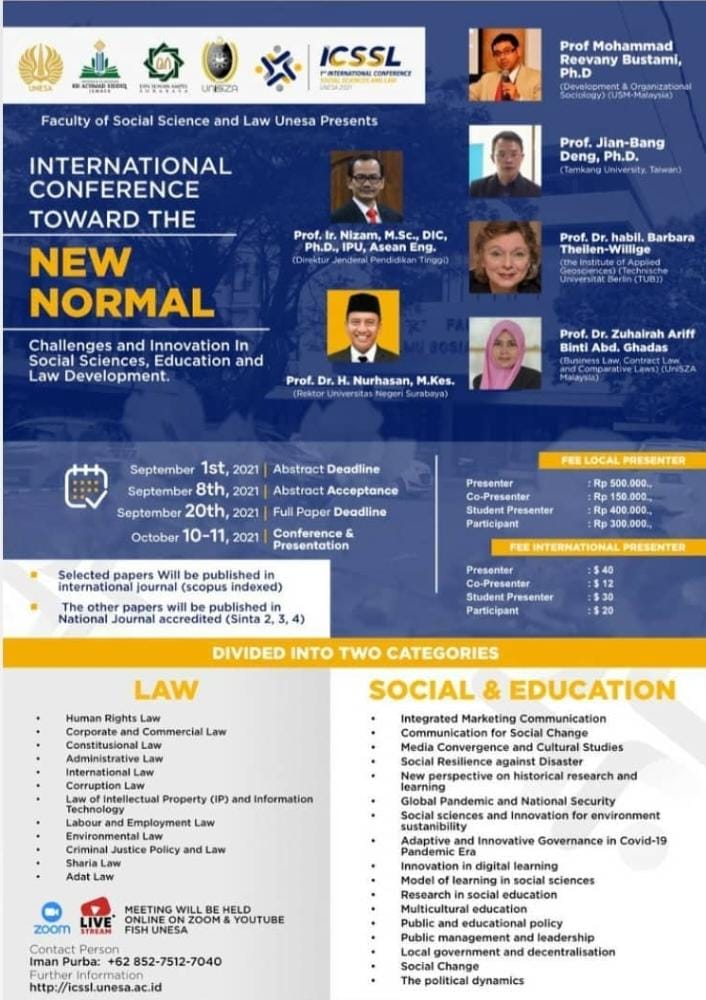 1st International Conference Social Sciences and Law (ICCSL)
Faculty of Social Sciences and Law
Surabaya State University
This ICCSL is a forum for domestic and foreign academics to study and share knowledge in responding to the impact of COVID 19 in the world. The existence of Covid 19 has had a significant impact on various sectors for every country and government. The affected fields are the fields of health, economy, politics, law and the socio-cultural life of the community. Therefore, academics are here to provide ideas and solutions to deal with the impact in these various sectors.
This international conference chose the theme "TOWARD THE NEW NORMAL: Challenges and Innovation in Social Science, Education and Law Development". For this activity, the institution invited international speakers who are experiential in the fields of education, law, politics and social. This activity will be held on October 10-11, 2021. The speaker was Prof. Ir. Nizam, M.Sc., DIC, Ph.D., IPU Asean Eng. (Director General of Higher Education, as Keynote Speaker. In addition, Invited Speakers are Prof. Mohammad Reevany Bustami, Ph.D (Development & Organizational Sociology) (USM-Malaysia), Prof. Jian-Bang Deng, Ph.D. (Tamkang University- Taiwan), Prof. Adriaan Bedner (Law and Society) ( Leiden University) and Prof. Dr. habil. Barbara Theilen-Willige (the Institute of Applied Geosciences) (Technische Universität Berlin (TUB).
The activity, which was attended by participants and presenters at the international conference, is expected to provide positive stimulants for academics to continue to consistently provide concrete solutions to overcome the impact of Covid 19. The presenters' scientific articles will be published in international proceedings and accredited journals so that they can be used as references for other scientific ideas. This international conference is expected to be held regularly every year as an academic pulpit for lecturers, researchers and university students to make an impact on countries and governments.
Share It On: